Would You like to Make Money with Your Idea?
. . . Then stay away from people who try to make it look easy. It's not.
There are very few legitimate invention promotion firms, or "invention brokers" as they are often called. But, you don't have to take our word for it. The U.S. Federal Trade Commission has some good literature and advice about invention brokers. Here are some of their brochures:
[Invention Promotion Firms] [FTC Consumer Alert]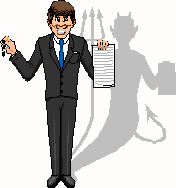 The most important thing to know is how to tell a scam artist from a legitimate firm: ask them for references! You want the names of clients and products that you can verify they helped bring to the marketplace. There is no reason why the broker shouldn't be eager to tell you about some of them so don't tolerate evasiveness. Successful companies are proud of their work.
Also ask about their track record. Find out how often their clients have seen a profit. Most invention brokers have never made a profit for a client, so it would be surprising if they could say one or two made money. Even so, one or two successes is not much if they claim to have helped thousands of clients. You should also check with the Better Business Bureau to see if there are any complaints against the company you are considering. If you want to have fun and test the invention broker at the same time, think of the stupidest idea possible and then submit it to them and see if they turn it down. They probably won't.
A 1994 Wall Street Journal article reported that invention-marketing companies in Minnesota must disclose their success rate to prospective clients. One of the biggest invention marketers stated that of 7,651 customers who signed contracts, "zero have received money in excess of fees paid."
If the broker prepares a patent application it probably won't be very good. That takes skill and experience. Many months or years will pass before the patent office acts on applications. This works in the broker's favor because they can pump you for more money while you wait. If your patent is turned down, the broker can avoid blame for the failure of your idea. Even if you get a patent, you won't know if it is written well enough to adequately protect your invention. Competitors can easily steal your idea if you have a bad patent.
When a broker "presents your idea to industry through their special contacts", that usually means they send a form letter to people they don't know at companies that may no longer exist. Your idea could be listed along with several others. Such letters go straight in your potential manufacturer's trash can.